10 december 2017
open gates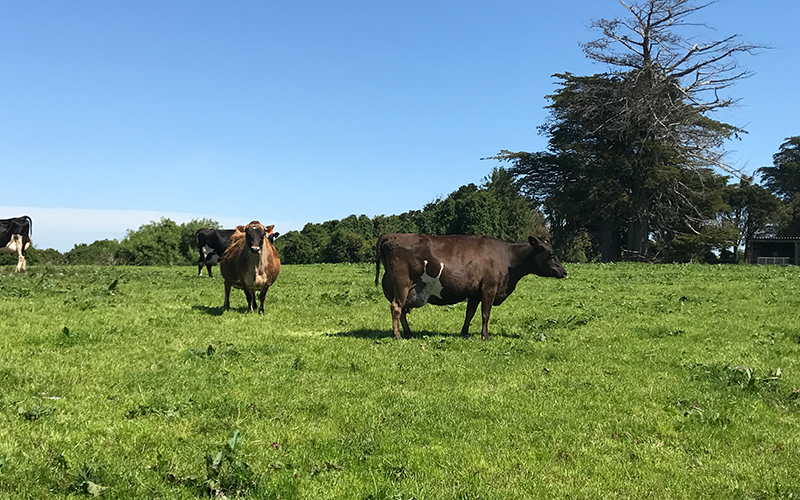 Tony & Raewyn & Tony & Wendy's Farm | Southland and Otago
From the farmers
Hi, we're Tony and Raewyn and we have been farming since 1979. Prior to farming, Tony was an A-grade motor mechanic but it was the opportunities farming offered that saw him take on a career change. After a year working on a farm to see if that's really what he wanted to do, we went town milk sharemilking (milking every day of the year). We bought our first farm in 1986 at Waikite Valley, Central Plateau, and raised our three children there.  
We have always employed 50/50 sharemilkers on our farm here– the current ones being Tony and Wendy Roubroeks.  Tony and Wendy own the 420 cows, farm machinery and employ the farm staff on our property. We provide the farm and are responsible for all capital expenditure and share some farm working expenses. As a result of this contract we share 50% of the milk income. We are passionate believers in the 50/50 sharemilking pathway for young farmers.  It was through this pathway that we were able to obtain farm ownership, and we like to offer this to young farmers so that they too can work towards achieving their goals in the dairy industry.
---
Our Farm and Environmental Story
On purchasing our Mokotua farm we felt privileged to own a farm with native bush and natural wetland areas.
As a family we have always had an appreciation of our environment – many family holidays were spent in Te Urewera National Park and Pureora Forest Park. On our farm we have fenced off native bush, wetland and tussock areas and in 2010 we successfully applied for a QEII covenant over these areas.
We have also done extensive riparian and tree planting and upgraded our effluent system. In 2017 we took part in the Waituna Landcare Group's study 'What Lurks Beneath', a survey of waterbodies on rural properties in the Waituna Catchments and we were delighted that it found giant kokopu, short, and long fin eels living in our wetland.
---
Community Groups we are involved in
Tony: Past member of Waituna Liaison Group – Drainage Group
Raewyn: DairyNZ Dairy Environment Leaders Forum Alumni
Southland Dairy Leaders Advisory Group Chair 
Landcare Trust Southland Catchment Group Forum

---
Our water initiatives

Riparian Planting

Wetland Restoration

Fencing Waterways

Nitrogen Management Data

Retired Land

Effluent Management
---
ABOUT US
FARM HOSTS
Raewyn & Tony

FARM LOCATION
Invercargill