10 december 2017
open gates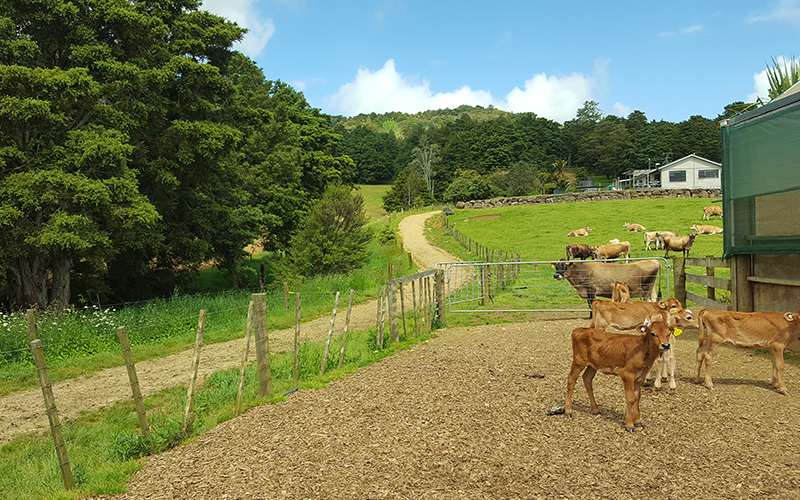 Luke & Lyna's farm | Northland
From the farmers
Hi, we're Luke and Lyna and together with our three kids Georgia, Josh and Ella we farm in Waiotu. We've been farming here in Northland for 15 years. The first five years in a 50/50 equity partnership with Lyna's parents Bruce and Ngarie and since then in our own right.
We run a dairy and genetics business milking 250 cows and supplying bulls to both farmers and the wider genetic industry. Lyna drives the operational side of the farm and Luke works a substantial part of the week off farm – currently project managing Extension 350, a programme designed to lift the profitability, environmental sustainability, on-farm performance and wellbeing of Northland farms.
We employ Shane full time on-farm to make sure we get through everything we need to. We were attracted to farming because of the opportunity to be in business together in an industry with that we both understood and enjoyed and because of our real passion for livestock..

---
Our Farm and Environmental Story
We recognise improving environmental sustainability is crucial to our farm, the industry and our community as a whole.
With this view we have sought to make continuous ongoing improvement every year – some bigger, some smaller and some not always perfect but each a step forwards. Since we've been here we've finished fencing off 50 acres of bush and all the main streams that run through our place, built new feed pads, extended effluent holding ponds, installed effluent irrigation and improved out nutrient management systems.
We're now just completing a Farm Environment Plan with Northland Regional Council and Fonterra to map out key areas and actions from here.
---
Community Groups we are involved in
Over the years involved in a whole range of community groups - at local school and on board of trustees, Rural support Trust, local Church, and a Trustee in youth and medical trusts.
Also leading women's discussion group and local Jersey discussion gp, involved in kids sport, and at industry level with genetics, LIC and Fonterra.
---
Our water initiatives

Riparian Planting

Nitrogen Management Data

Fencing Waterways

Nitrogen Management Data

Effluent Management
---
ABOUT US
FARM HOSTS
Luke and Lyna

FARM LOCATION
Hikurangi